Sunshine Acres
Salome, AZ's Premier RV and Manufactured Home Subdivision
Local Information and Resources
Click Above To See Their Site
Click Above To See Weather Reports
Click Above To See Arizona State Parks and Trails
Off-Roading and ATV Riding
Many BLM maintained trails to choose from, like the Harquahala Mine Trail
Hiking
Hiking in Salome or choose from the many different beautiful trails in Arizona
Biking
Enjoy Mountain Biking, Trail Biking or Street Biking
Fishing and Boating
Alamo Lake is just 40 miles from Salome (Approximately 1 Hour Drive)
River Island State Park in Parker, AZ – 70 miles (Approximately 1.5 Hour Drive)
Winter Skiing In Northern Arizona
Snowbowl in Flagstaff, AZ – 220 miles (Approximately 4 Hour Drive)
Kartchner Cavern Tours
Outside of Benson, AZ – 260 miles (Approximately 4 Hour Drive)
Shopping, Restaurants and Entertainment
The Phoenix Metro area is just a short drive from Salome – 95 miles (Approximately 1.5 Hour Drive)
Affordable Healthcare Options in Algodones, Mexico
The Desert Bar is open Oct thru
April, Saturdays and Sundays only
from high noon till 6pm, Az time .
THE BAR IS CLOSED DURING THE
HOT SUMMER MONTHS.
Trail Riding Outside of Salome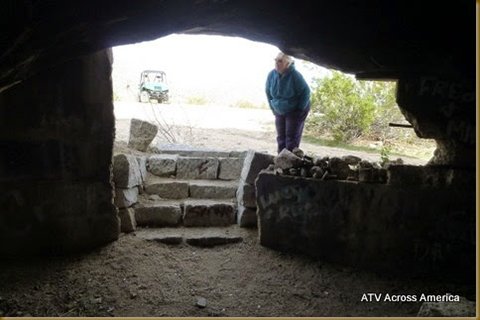 These pictures are from trails around Salome and feature: Cactus in the Cave, Petroglyphs, Indian grinding stones, Harquahala mines, Chinese mine graves, Prison Rock, General Patton Pass and an old dug out home.
GPS Coordinates For Trail Points Of Interest Around Salome
South of HWY 60:
Cactus in the cave: 33*39'24N 113*39'22W
Needles Mine (King Tut): 33*40″55N 113*34'10W
Golden Eagle Mine: 33*40'48N 113*35'02W
Chinese Graves (Harquaharla Mine): 33*48'29N 113*35'30W
Highway Petroglyphs: 33*44'56N 113*40'19W
Hotdog Hill: 33*42'25N 113*37″46W
Hope Look Out: 33*44'33N 113*39'07W
Memorial Hill: 33*42'15N 113*37'34W
North of HWY 60:
Desert Hill Petroglyphs: 33*48'13N 113*40'57W
Cave House: 33*53'13N 113*40'10W
Close To Popular Destinations!
Algodones, Mexico is 131 Miles South (Approximately 2 Hour Drive, for affordable medical needs)
Downtown Phoenix Area is 95 Miles Away (Approximately 1.5 Hour Drive)
Sedona, AZ is 180 Miles Northeast (Approximately 3 Hour Drive)
San Diego, CA is 275 Miles Southwest (Approximately 4.5 Hour Drive)
The Grand Canyon is 225 Mile North (Approximately 4 Hour Drive)
Las Vegas is 235 Miles North (Approximately 4 Hour Drive)
Click Above To See Arizona State Parks and Trails Official Website
A Closer Look at Algodones!
Click on the image below to view the gallery